---
Hey, hi there.
Welcome to this space within my tiny little blog that lives within the much larger and ever expanding world wide web.  Imagine your bedroom or kitchen (because that's less awkward and there are fewer rogue socks under the covers) within your house, inside a town, inside a state, inside a country within a continent, on a planet (Earth), inside a solar system, within a galaxy (milky-way), within a Local Group (because Wikipedia said so), that lies within the universe as a whole (to which we keep finding distant edges ?!?) – this little gratitude journal that you have stumbled upon is a kitchen within the universe.  So very tiny in the realm of what is out there yet so very intrinsic to the life that it sustains.  
Welcome.  
I try to post regularly.  Some times I do.  Some times I don't.
But it is always about what I am grateful for at the moment.
02-07-17
pan fried eggs 
10-19-16
good, nutritious food.  
I have started a self reboot and doing the Whole30 again.  My relationship with food over the years has always been shaky but each time I return to work on the relationship (because they all need work) I learn more about myself and what makes me tick.  So here we go again.  So grateful for the ability to show up.  
And when I get to eat what is below (gorgeous, no?!) – this aint too shabby.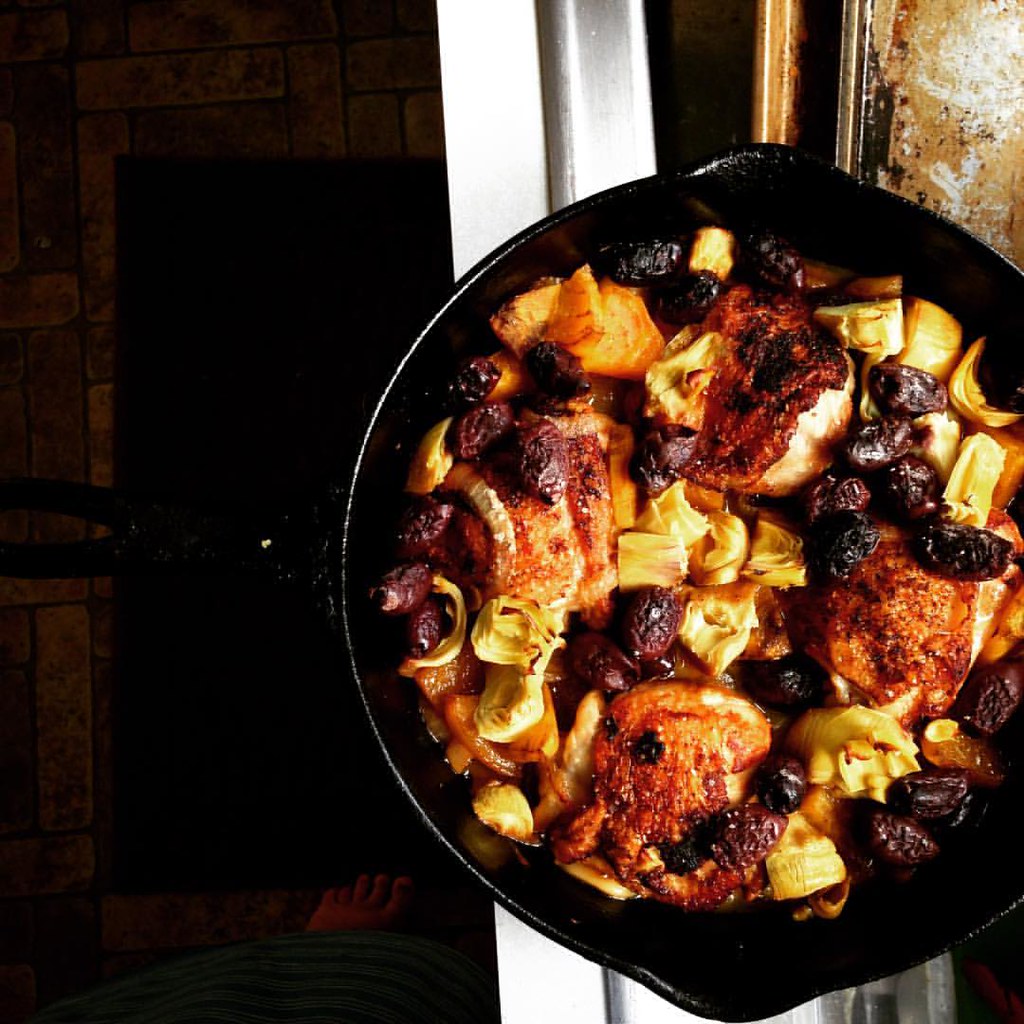 09-16-16
Church ladies.
08-15-16
this light, those eggs
08-11-16
Oktoberfest appearing in the grocery aisles
cheers! 
07-04-16
life right now.  all of it

05-31-16
memorial day weekends spent with great people
pool parties

05-13-16
bubbles
05-08-16
getting outside and working in the dirt alongside mom
05-01-16
soap
04-27-16
The field full of yellow flowering plants I pass on the route to and from work.  Easy on the eyes.
04-18-16
warm spring mornings
sat outside in the sunshine this morning 
can't think of a much better way to start a week
04-17-16
late evening walks
weekends
04-13-16
good customer service
04-11-16
finding love notes on my car windshield from a certain niece and nephew
toothy toddler grins
04-06-16
daffodils 
dogs that ride in cars like humans
04-04-16
post work play-dough dates
03-27-16
Easter
the first thunderstorm of spring
03-23-16
grateful to hear birds chirping late into the evening.  8pm and they were still all a buzz 
03-16-16
warm sun and a good morning run
03-08-16
walking to my car at night after work where I am not freezing
looks like we might have a true spring this year
Fingers, eyes, toes crossed
02-21-16
grateful for warm unseasonable weekends that allowed for strolls…haven't strolled in a few months
02-14-16
 days that allow for a bit of sleeping in, an afternoon nap, and a bit of baking 
02-11-16
friends that share their ice cream
02-07-16
good genes

02-04-16
finding my groove after a bit of upheaval
01-27-16
any after work snack
lately, it's been cookies
01-24-16
Family that Tetris'd the hell out of all my stuff
successfully without a hitch or glitch or even a broken glass
moved me from point a to point b 
01-15-16
I found a Starburst in the pocket of my cardigan this morning
Good days begin with candy in your pockets.
Grateful for a good start
01-14-16
catching a lovely night sky
winter twilight
old man scarves
01-10-16
snow days
snowed in + pjs all day
01-08-16
Roast Chicken
01-04-16
New adventures.
01-03-16
weeks/weekends where you can't place what day of the week it is.
Thursday feels like a Saturday and so on.  Makes the weekend feel that much longer.
Funny how each day of the week has a 'feel' to it 
12-30-15
for brothers
12-29-15
YouTube…makes learning new things a bit easier.
12-28-15
Today it will be coffee.  I am sure of it.
12-23-15
Thunderstorms in December
(I am still wishing hard for snow but I am not one to complain about rain)
12-21-15
Christmas decorations in the office
these darn snowflakes make me as happy as a pig in mud 
12-20-15
butter
12-14-15
El Nino.
I am secretly wishing for a huge ass snow storm but I am also loving this 60 degree weather in December.
Honestly, I don't know what I want
But this was pretty great …
thankful for it all.
12-08-15
laughter
mine, yours, ours…it feels so good
12-01-15
Happy December.
a place to log a few miles when it is raining sideways

11-22-15
easy Sundays
11-19-15
a cold beer and a warm dinner
11-14-15
grateful to walk out my door and feel relatively safe
free from terror at my doorstep
it all got a bit closer yesterday – each day I can step outside without fear I will be forever grateful
11-11-15
veterans.  and the freedom they procure and protect.
and this light that is all but beckoning winter
11-10-15
good cheese and crisp apples, dinner tonight 
11-9-15
grateful for ideas and possibilities 
11-08-15
phones with cameras.  or just cameras
or national parks
or my legs.
all of which got me to this place to see the scene above and to snag that photo 
11-06-15
eggs
i'd go probably starve without them.
I know I am typing such words on a food blog.
the truth is the truth.
11-04-15
fall.  or autumn.
the colors blending into each other ; red into orange into brown
the contrast – the yellow!
the crunch beneath my feet
11-01-15
For travel and extra hour(s) of sleep
10-13-15
long talks with mom.
yesterday finalized the end of an era, so very grateful for that era and to have played a part
it is time for us to take the reins 
10-6-15
yoga. again – even though my shins are sore?  what?
for the words of Brene Brown and Elizabeth Gilbert and the message they are conveying
for flowers in October – they make me smile as much now in their final days as they did months ago in their infancy
OCTOBER BASEBALL
10-4-15
my oven.
10-1-15
grateful to be out of doors and walking and moving and feeling the wind against my face, making my cheeks red and my hair tangled.  Walking strongly against it, body pitched forward in order to take the next step.  i need the stink blown off of me …
a strong wind helps.
9-29-15
weather fronts.  i think fall has officially arrived
9-28-15
Grateful for being exhausted on Monday morning.
For needing a few extra cups of coffee.
It is a sign of a good full weekend.
It was a good FULL weekend.
9-23-15
my evening runs and/or walks.
grateful for the time to decompress while pushing my self physically
and HELLO FALL!!!
9-22-15
excited anticipation
9-20-15
crisp cool air to run in and the motivation to get outside this evening…

9-19-15

construction nearing completion – my favorite bit of my normal running loop has been reopened and improvements are nearing completion.
9-17-15
friendliness
9-15-15
a change of seasons…a bit of a new beginning every few months
9-13-15
pizza delivery
blue skies, puffy clouds, rough waters
9-11-15
Windows that open outward and not upward allowing them to remain open during the rain
9-10-15
leisurely afternoons
sweet plums
9-9-15
fun facts
grey skies
thick low laying clouds
fizzy drinks

9-3-15
falling asleep to distant thunder and light rain
09-02-15
new experiences.  tonight….paddle boarding!
08-30-15
pitch and catch
8-29-15
the smell of corn fields at night in late August
Community
08-27-15
blue hydrangeas 
08-25-15
Today.  All of it.
08-22-15
popcorn.  i love the heck out of popcorn.
08-20-15
live music.
08-19-15
finding pink balloons on an evening run
08-18-15
puns
08-14-15
afternoon naps
late evening walks
08-09-15
Peaches.
08-06-15
Wide open windows
Patio evenings, good friends, belly laughs
A good tomato w/ a bit of salt and pepper
A run (good,bad,or otherwise)
01-06-14
Heat.
I am grateful for heat when the temperatures dip below 0F…
and the wind chill plunges to a bone chilling -30+F.
Oh heat.

8-28-13
I am grateful for grandparents. 
6-10-13
Today I am grateful for the breath I breathe.  For the breath that my loved ones breathe.
In the past month, two former friends, now mere acquaintances, have lost younger siblings.
I am grateful for my family.

Dear God.  I am grateful.
5-30-13
Today I am grateful for simple pleasures.
Baking.
Playing in the dirt.
Running.
Phone convos getting easier and more natural.
Baseball on the radio
Chocolate after lunch.
Popsicles.
4-23-13
Today I am grateful for an outlet to relieve stress and anxiety and straying thoughts.
I run.  I workout.  I push myself physically to fix me emotionally.
It is a struggle to slip on the shoes and sports bra and hit the pavement.
It is a struggle to put one foot in front of the other some days.
Work.  Relationships.  High hopes…big disappointments
The constant optimistic outlook sometimes comes back to bite me in the butt…
Which is why I think God gave me the ability/want/drive to run.
He knew I would need an outlet on cloudy days.
I am thankful God knows me better than I do.
2-25-13
I am grateful for relaxed days off.  No plans.  No to-do lists.
Grateful for eye insurance.  Contacts ordered.
2-13-13
I am grateful for feeling better.  For subsiding nausea.  Zofran.  Ginger ale.  Saltines.
2-10-13
I am grateful for soft winter light.
My mind is craving summer but everything else about me loves and enjoys the pace of winter and the faded diffused light chilly winter days provide.  Thank you endless cloudy days.  Thank you Lake Erie.   How the day light is rarely ever harsh or blinding, but comforting and cozy.  It doesn't shine through the window panes, but just fills the room with a warm glow.
How the winter light creates the exact feel I want to portray in a photo…cozy, quiet.  Content.
I am grateful for the cold winter days…it brings about hope of spring.  The anticipation of warm skies.
2-09-13
I am grateful for quiet Saturday mornings.  Hot coffee.  Netflix and their endless streaming of  movies based around road trips…honestly, I don't know – they strike a chord with me.
Pie baking and its simplicity
Possibility
01-24-13
I am grateful for good or even best friends.
Simple.
11-13-12
I am grateful for my ipod, loaded with my favorite music and podcasts.
Traffic jams would be unbearable without them.  But because of them, I actually don't mind traffic jams.
11-08-12
We are in the month of thankfulness.
People everywhere are professing their thanks.  From warm beds and clean drinking water to curling irons and warm socks.  I like how so many of us are doing this.
I wish we would all do this more often.  Year round.
Today I am grateful for a workout day off.  Planned.  Scheduled in.
My legs needed the rest.  As did I.
I tried not to feel guilty about taking the day off.  The hardest part about not running.  The day off.
But tomorrow, on my long run, I will be very grateful for this day off. 
Promise.
9-19-12
I am grateful for clouds.
Simpson -esque clouds.  Puffy white clouds against a bright blue sky.
They have a name. Stratus/stratocumulus.  Or something like that.  I don't know.  I am a pharmacist.  Not a meteorologist.
Those clouds, no matter my mood, make me smile.
From ear to ear.
Today I noticed them when I went on the floors, gazed at them on my way home from work, and enjoyed them as mowed the lawn.
9-10-12
I am grateful for windows.  The wide open variety.
In the kitchen, in the bedroom, in the car.
Fresh crisp fall air.
Breezy curtains.
Wind whipping my hair.
9-08-12
I am grateful for days that you wish would slow down.
We go through days and weeks, hoping for the work day or week to be finished.  Rushing through the days, wanting them to be over, complete, done with.
Today, I wish it would slow down.
It is a different feeling.
A good feeling.
9-05-12
I am grateful for the color turquoise or for that oh so lovely Tiffany blue…
My nails are freshly painted such color and just a glance makes me smile.  My new sunglasses are the same color and if I could make my wardrobe that color, I think I would.
I am thankful for friends.  Ones you can randomly text at 738a.m. and ask the most random of questions or comment on the most random of things…and they totally get it.  Or at least pretend to.
I am thankful for slowly allowing myself to be me and not being sorry about it.
8-30-12
I have been slacking over here.  Whomp Whomp.  I am putting a reminder in my calander to remind myself to just jot down a few grateful/thankful/happy thoughts here daily.
Today, well it just started, but I am very thankful for the smell of fall air and the crisp coolness that is accompanying the fall fragrance.  This summer, the heat and never ending sunshine wilted me.
I can feel myself becoming more rejuvenated.
So, fall.  Thank you.
You will always be welcome in my house.
7-5-12
Eek it has been almost two months since I last posted here…yikes.
I am grateful for motivation for late night workouts.
I am grateful for friends that enjoy going to cooking classes with me (Mel, thanks!) and whom do not mind when I kinda sorta take over.  I can't help myself…it just happens.
5-26-12
I am grateful for my hair straightner.
My hair is silky and straight or wavy and beach like.
Thanks!
5-6-12
I am grateful for spring days like today.
Simple as that.
The sun was bright and warm.
The breeze, cool and refreshing.
The scent was fresh and clean.  Fresh cut grass came in wafts.
The birds chirped and kids laughed next door.
Today, today was a good spring day.
4-29-12
No roadkill on my run today…I am grateful for the animals that made it quickly across the road or for motorists that stopped to let a rodent/pet dart across the narrow road.
I hate the smell of roadkill when running….the sight doesn't bother me, it's the smell.
 4-27-12
It has been over a month.  I have neglected this spot on my blog.  I have been grateful in my time away.
We have had days of sunshine and warmth this spring, followed by days of rain/snow and cold.
I am more grateful for the gray days – Helps me cherish the warm and sunny ones.
I am genetically engineered to love gray days.
I am grateful for my perseverance or just my bull headedness or my analness to stick to a schedule.  Marathon training is going well, and I will be as prepared as possible come May 20th.
 3-25-11
Doctors, nurses, and the gentle (yet pushy) worry induced prodding by my mother.
Dad is finally home from the hospital after a gallbladder attack that lead to an invasive surgery and a week long stay in the hospital.
So I am grateful for the doctors and nurses that cared for him during the week.  For my mother who insisted he go to the ER (he would still be at home in pain if it was up to him) and for my dad – even though he is a bit bullheaded. 
 3-14-11
I am grateful for early mornings, sunny afternoons, and warm, lazy evenings.
I like springing forward and the longer days.
02-26-2012
I am grateful for Award shows…a few hours on a Sunday night to kinda sorta forget about the looming Monday infront of us and to relax from the weekend behind.  To escape persay…we all need to escape, we all need an escape every so often.
02-12-2012
I am grateful tonight for music.
Watching the Grammys and while my favorites aren't winning everything tonight :), there have been some great performances….
Plus, Adele IS BACK!!!
A bit obsessed…
Music, though, is special.  To each and every one of us differently.
Personally, it creates a bond/link between me and my father.  His likes and influences have rubbed off onto me.
Some of my best and favorite memories with dad are those huddled over the computer (be it Napster or ITunes) and him sharing his favorites with me and me introducing him to newbies.  He was the one who introduced me to Elton and Billy Joel while I'll take credit for introducing him to Adele.
The only thing we don't see eye to eye on is Country Music of today…that he doesn't get.  I have tried.
01-26-2012
Today I am grateful for…
Grateful for the feeling of comfort in a new place
I felt truly comfortable today at work.
Maybe it is because I brought all the fixins for coffee, even half and half.  Carving out my space, bringing the comforts of home to work.
The chit-chat is getting easier.  I am not exactly an extrovert, but when I do start talking, it is hard to shut me up.
It is all starting to click…for that I am very very grateful.
o1-23-2012
I am grateful today for being aware and present.
Somedays I am not, but today I was and I was pleasantly surprised.
It is a wonderful thing when you become aware of the fact
that you are exactly where you are supposed to be.
Eeery and awesome all at the same time.
It is a great thing when you know that, while change is hard and challenging, that it was a step in the right direction.
Today was a good day.
Oh and Fud is doing OK.  Very thankful for great vets and family dogs!
01-22-2012
I am grateful for lazy Sunday afternoons.
Afternoons full of hot coffee and sweatpants.   Chocolate cupcakes and baked french toast.
Grateful for snow storms and the pretty landscape it leaves behind.
Grateful for a warm home during the cold winter months.
A warm home.
01-08-2012 
I am grateful for laundry.
I hate all things about it, but I am grateful that I have clothes, towels, sheets, etc that need to be washed, dried, folded, and then put away.
I am not very timely at the folding and putting away bit.
I am grateful though for the laundry.
Ugh.
12-30-11
The year is coming to a close.
As is my time with my current job.
I will work my final day on the last day of 2011.  Seems rather fitting.  As I clean out my drawer and pack up my belongings…I am reminded, that while I may have outgrown my current position I am certainly grateful for the opprotunity and the learning experience it has provided me.
I am grateful for the people it has ushered into my life.  I am grateful for the friendships it has encouraged.
I am grateful…
And now I begin a new journey…
Wish me luck!!!
12-22-11
I am grateful for a family to spend the Christmas holiday with.
I am heading there today.
I am grateful for the want we all have to buy each other that perfect gift. 
It means we care, It means we want to make each other feel special, It means we love.
I am grateful for pretty wrapping paper.
I am grateful….and happy. 
12-20-11
I am grateful for hair stylists (is that the proper term?)
I feel like a lady again
My hair is nicely trimmed again
I have bangs again.
Best of all, she gave me a lovely scalp massage … ahhh!
12-17-11
I am grateful today for snow during December.
It finally feels like Christmas
I am grateful for new opportunities and new challenges.
I am grateful for wanting to grow, change, and for not wanting to be content, even if it makes me feel a little unsettled at times
I am grateful for veternarians…Stanley made it through his declawing without any problem and he isn't mad at me.
12-13-11
Again, it's been some time…
I am grateful for new music.  I am grateful for brothers who share said new music.
I am grateful to have something in common with said brother.
Commonalities are nice.
 11-30-11
Last day of November…can hardly believe it.
I am thankful today for yoga.  I am thankful for Jackie for getting me to my first class months ago.
I am thankful for a warm home, heat, hot showers.  It snowed today, so anything warm I am thankful for!
I am thankful for belief in ones self.
I am thankful for the journey.
11-27-11
I am thankful today for the safe and patient drivers that I shared the road with tonight.  Bumper to bumper traffic, in the rain, Sunday night post-holiday…I am thankful for safe drivers.  Drivers not preoccupied.  Focused drivers.
Your safe return home depends not only on you, but to those around you.  Therefore, their safe return depends on you.
Thankful for a great weekend with my family.
Thankful. 
11-21-11
I am thankful for restaurants.
I am thankful for breakfast establishments.
I am thankful for good friends with whom you can laugh with over breakfast.  Who will meet you for breakfast after working all night long.
I am thankful for bottomless coffee cups.
I am thankful for strawberry jelly, because the world would be a sad place without strawberry jelly.
I am thankful for fruit plates instead of hash-browns.
11-20-11
I am thankful for warm days in November.
I am thankful for new opportunities.
11-18-11
Today I am thankful for the ability to change.  The possibility of change.  A transformation.  To become a better you.  To want to be a better you.  To be you.  Or for me, to be me.  To become a better me.  To want to be a better me.  Or me wanting to be me.
I am thankful for the journey not just the destination.
I am thankful for people.  I am thankful for their smiles and kind words.  I am thankful for their jokes and their laughter.  I am thankful for their open hearts and listening ears.
11-16-11
I am thankful for twinkle lights on deciduous trees…a.k.a bare trees.  I am not sure how to describe how they make me feel, but it is close to warm and cozy.  Nothing can bring a smile to my face as quick as lights strung on bare maple tree branches.  Or elm tree.  Or oak trees.  Tonight, I went to yoga and there, all through the square/triangle of downtown Berea was trees dressed in twinkle lights.  My heart soared.  I could have gazed at them all evening long.  Thank you downtown Berea, thank you for putting a smile on this face. 
11-15-11
Today I am thankful for brothers.  We would always joke that I was the rose between two thorns, but I have always thought that I was the thorn between two roses.  
Today is my youngest brother's birthday.  He is 27.  When did he turn 27?  He will always be 12 in my book, with that real round head and red cheeks when he would get mad/frustrated.  That is the brother I see when I talk of my brother, when I think of my brother, when I see my brother…I see that 12 year old little dude.  So, Happy Birthday James, here is to always being 12 in your sister's book.  
11-13-11
Today I am thankful for true love and weddings.  This past weekend was full of weddings (11-11-11) and I knew of two.  I am thankful that they are able to start a new life together.  I am thankful that they were able to share such a happy day with friends and family.  I am thankful that days of happiness exist in this world of ours today.  I am thankful…
11-10-11
Today I am thankful/grateful for good runs.  More so I am thankful for my feet, toes, ankles,  legs, hips, arms, and shoulders that all function properly and in sync allowing me to run.  I am also thankful for the motivation to lace up my tennis shoes day in and day out.  OK, I might still be under the influence of said runner's high, but seriously, there isn't anything better!
11-9-11
Today I am thankful for my mind, body, and soul.  It is yoga wednesday and, while sometimes it takes great effort getting me there, I always leave feeling stronger, balanced, centered, caring, loving, patient….all in all, better.  I feel not only better about myself, but my outlook on the world is different.  I truly enjoy doing yoga before going to work…I enter the hectic space of the pharmacy in a more controlled, nonreactive, peaceful state, therefore changing the pace and creating a more calm situation.  Dare I say I enjoy work on Wednesday nights?!?  Yoga works to strengthen, build, and change your mind and soul while strengthening your body. 
A strong body to carry your soul. 
11-8-11
I missed two days…so three things today.  I am thankful for the kitten sleeping in the crook of my arm right now.  Stanley drives me crazy when he bites my ears at 2am, but I am thankful that he still likes me after I kick him out of bed. 
I am thankful for my warm bed and roof over my head. 
I am thankful for support.  Bra support and spanx, yeah those kind of rock, but the support from friends and family and co-workers who give you the kick in the butt when you need it and believe in you even when you are lacking in the area.
11-5-11
I am thankful/grateful for Pinterest.  Pinterest is awesome.  I love it.  I enjoying discovering what other people find as funny, pretty, inpiring, tasty, etc…Plus, it brings the vast internet, new sites, new people to my attention, broadening what I know and look at on a day to day basis.  I just love it and thankful for its creation!
11-4-11
I am thankful for large coffee cups.  I'll have to take a picture of my favorite cup.  The reason for this love is beyond the obvious, that it holds a lot of coffee.  You know when you are sitting Indian Style (crossed leg I think is more politically correct?) in your sweatpants, on your couch ,in your spot, catching up with your dvr, and the comfort you get from drinking a warm beverage from your favorite coffee cup.  It makes me all comfy and homey and completely happy.  Happy. 
11-3-11
Today I am thankful/grateful for a crazy kitten named Stanley.  He isn't right in the head but then again who is?  He enjoys running sprints through the house and then collapsing on my lap.  He enjoys brown paper bags and playing with my pony tail…He makes me giggle (normally).
11-2-11
In honor of Turkey month…can I do this daily?   I think grateful and thankful kinda sorta go hand in hand. ( I know I am a day late already!)  I am going to set my Google Calendar to remind me.
Today I am grateful/thankful for my safe drive home from work.  I was stuck in quite the traffic jam this morning on and off the highway and as I was rather tired and getting irritable from sitting still, I thought of the accident that caused the back up.  Those poor individuals that were in the accident would most likely give anything to be stuck in the traffic jam vs. being the cause of the traffic jam.  Note taken.  I pray that they are alright. 
9-21-11
I am grateful for optimism.  I want to be optimistic so I am grateful for the possibility.  I am also grateful for patience.
8-26-11
I am grateful for…cool summer evenings. 
8-21-11
I am grateful for…cool summer evenings
8-20-11
I am grateful for…lazy Saturdays. 
8-19-11
I am grateful for…being able to exercise.  Pulled me out of a funk this morning…thank goodness for a good sweat!
8-10-11
Its been awhile…here I try again 🙂
I am grateful for…gentle breezes, books that make you think and look at the big picture differently or highlight/put into words how you already feel/believe, yoga and letting yourself truly relax, and being able to touch my toes…always fun!
7-31-11
I am grateful for…laughter/humor in life. 
7-27-11
I am grateful for…groundhogs.  They make me laugh. 
7-22-11
I am grateful for…mail.  Not bills but real mail.  Packages, notes, letters, cards…that sort of thing.  Love it, even if it is I who ordered the package – its a thrill getting something delivered to your door.  Smile.
7-21-11
I am grateful for… hope.  It keeps me in a positive state of mind.  I like being positive.  Following poem by Emily Dickinson…One of my favorite – however I am not a big poem reader, but this one hits home for me. 
Hope
Hope is the thing with feathers
That perches in the soul,
And sings the tune–without the words,
And never stops at all,
And sweetest in the gale is heard;
And sore must be the storm
That could abash the little bird
That kept so many warm.
I've heard it in the chillest land,
And on the strangest sea;
Yet, never, in extremity,
It asked a crumb of me
7-20-11
I am grateful for…air conditioning.  It is freakishly hot out today.   
7-15-11
I am grateful for … can I say sunny days – that's different from yesterdays, right?  Well, the weather has just been amazing lately and I can't get enough of it.  Heading out to soak some more in. 
7-14-11
I am grateful for…sunshine.  Simple as that. 
7-12-11
I am grateful for…old friends.  I have recently been contacted by two friends that I have not spoken to for years.  I love the ability to start up a conversation as if years have not separated our last chat from the current one.  Where, instantly comfort is had and we can easily pick up where we left off.  I love this.  It makes me smile.
7-11-11
I have skipped a few days…
I am grateful for…rain!  It finally rained today and my yard and garden sighed in relief.  I actually heard them sigh, at least I think I did.  Maybe it was me sighing.  Hmm… Any who, I love the rain. 
7-8-11
I am grateful for…. excitement.  My second photo was accepted on food gawker – made my night  greater than it already was…between swimming, grilling, and relaxing – this just sent me over the moon! 
7-7-11
I am grateful for….family dinners.
7-6-11
Dinner with Mel, Todd, Jon and Maggie…splendid.
I am grateful for…good friends – simple as that.  Friends who let me plop down on their kitchen stool, grab a beer, and chat for hours, laugh until my stomach hurts, and eat until I need fat pants…its a wonderful thing! 
7-5-11
I mowed and weed whacked today and then made a healthy filling lunch 🙂
I am grateful for…a patio, an umbrella, and a healthy lunch – all enjoyed under the sun on a pretty great Tuesday!
7-4-11
I forgot yesterday!  Darn. 
Today I am grateful for…freedom.  It being the 4th of July, this seems appropriate.
7-2-11
Real quick here…kinda forgot to do this today – I slept late and was baking up some mean PB blondie brownies…see related post soon.
I am grateful for… restful rejuvenating sleep and a nice warm bed to sleep in 🙂
7-1-11
Holy Moley…its July! 
I am grateful for … my legs.  The short, stubby, freakishly white pegs sticking out from my waist.  Why?  Because today during my run I was reading Runner's World magazine, which was featuring runners who had overcome cancer and had used running as a sort of therapy.  They were men and women who had fought cancer and won, who had lost limbs to cancer and won, and all I could think about was that moments before jumping on the treadmill I was contemplating not running because I was tired and it might be hard ( i had just finished a ten hour night shift) and here are people who are running with only one leg and doing it daily, running races faster than I ever will.  It was a true inspiration and broke me from my fog – I will try not to complain about running ever again – its a gift that I should cherish
6-30-11
I am grateful for …  food.  Not just any food, but fresh, whole, healthy ingredients that we are fortunate enough to have at our fingertips.  Especially summer fruits and vegetables all of which are in their hayday – ah summer!
6-29-2011
I am grateful for…laughter and co-workers who make me giggle making the night pass with a bit of ease.  Oh and friendly toll booth workers.
A special thanks to everyone reading my blog…had the most views in one day yesterday – mark down today!!!  Its the little things.
6 – 28-2011
Today, my first day on this gratitude journey/journal and I am amazed at how many things I am grateful for.  From large coffee cups to great friends.  Do I have to just pick one thing?  Nopers…there are no rules here.  However, this does feel a tad bit like a Thanksgiving dinner with everyone giving thanks, minus the turkey, mashed taters and hot rolls…bummer.
I am grateful for sunny afternoons and coffee 🙂  oh and re-runs!