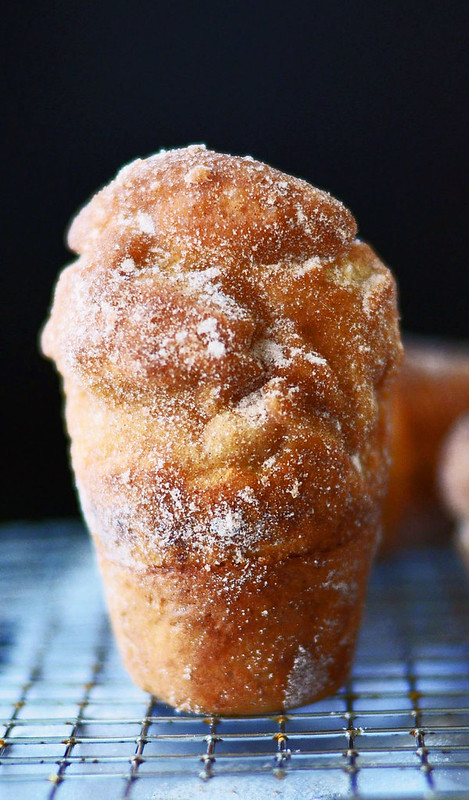 Real life…I brought TUMS with me on a bachelorette wine tasting tour this past weekend.
At one point this weekend, there was both a roll of half eaten TUMS and a penis straw in my purse.
I can't make this up if I tried.
Sweet sips have my esophagues angry and screaming. And myself wishing for a quick death or a wiser mind. It has taken years, but I have come to the realization that I can not enjoy such things as a mango margarita or a rum punch without paying the consequences and eating my daily calcium needs while sitting at a bar. It is attractive.
This is my life. Penis straws. TUMS. Wine tastings. It's all pretty great…minus the chalky tongue. Oy.
What does this have to do with cinnamon sugar popovers? Nothing, besides the fact that they are great the morning after a night out … quick and easy and so delightfully comforting. Reminiciscent of cinnamon sugar toast but lighter and softer and chewier. Imagine elephant ear meets breakfast toast.  Wowza.
It will drown out any shame gathered by chowing down on some TUMS while bellied up to a bar.
And we are ready to whip some up…grab your blender and popover or muffin tin and we are off…
This is the case of gather all your ingredients before you start.  Trust me.  Once we get going here, there isn't time to search your spice cabinet for cinnamon.
What is great about popovers is that all the ingredients are in your fridge and pantry right at this very moment.
the milk … i liked whole milk, but 2% will work.  skim…i am not so sure.
but then again we will end up rolling these in butter and cinnamon and sugar … so whole milk it shall be.
milk, eggs, and butter into the blender.  give it a good go around.  foamy is good.
followed by the flour, salt, cinnamon, and vanilla.  another fly by from the blender and we are nearly set.
batter should be utterly smooth.
let the batter sit while you heat the oven – gives the flour a bit of time to absorb the liquid.  we are talking texture results here.  serious business.
batter is poured into hot and greased muffin/popover tins and baked.  DO NOT PEEK while baking.  keep that oven door shut or otherwise you will have  a deflated mess on your hands.
once out of the oven, you will need to empty them out onto a wire rack and pierce the bottom of the popover with a sharp paring knife.
these suckers are full of steam….it needs let out.
once they are cool enough to handle, but still warm…brush all over with melted butter and then roll in cinnamon and sugar.
can this get any better?
bread.  melted butter.  cinnamon and sugar.
i may have shoved two into my face and washed each down with a chocolate egg cream.
so light and airy…yet crisp and some how chewy.  cinnamon and sugar.  gah!
Cinnamon Sugar Popovers
Ingredients
1 Cup Whole Milk
2 Large Eggs
1 Tablespoon Unsalted Butter, melted and cooled
1 Cup All-Purpose Flour
1/2 Teaspoon Ground Cinnamon
pinch of salt
1/2 Teaspoon Pure Vanilla Extract
2-3 Tablespoon Vegetable Oil
Coating
4 Tablespoons Unsalted Butter, melted
1/2 Cup Sugar
1+1/2 Teaspoon Ground Cinnamon
Instructions
In a blender, combine milk, eggs, and 1 tablespoon melted butter (cooled). Blend until combined.
Add to the blender the flour, salt, cinnamon, and vanilla. Blend until smooth and frothy.
Preheat oven to 450F. Preheat oven after mixture is blended – this allows for the flour to absorb some of the liquid – improvement in texture.
Once oven is preheated, Place muffin or popover tin in the oven for 2 minutes to heat up. Remove tin from oven and brush each cup with the vegetable oil. Give the batter one more whiz with the blender. Pour batter into each cup, filling about 1/2 of the way full.
Place in preheated oven and bake for 15 minutes. DO NOT OPEN OVEN DOORS DURING THIS TIME.
Reduce oven temperature to 350F and continue to bake for 15 minutes until they are golden brown and dry to the touch (you can open the oven doors during this time)
While they are baking, combine 1/2 Cup sugar and 1 + 1/2 teaspoon cinnamon in a pie plate or bowl and set aside.
Remove from oven and empty popovers onto a wire rack and with a sharp paring knife, pierce the bottom of each popover so the steam inside can escape.
Cool until they can be handled but still warm. Brush each popover with melted butter and then roll in the cinnamon and sugar, coating each popover.
Enjoy immediately. They can be rewarmed in a 350F oven for about 5 to 8 minutes.
* this will make 6 large popovers using a popover tin (seen in above pictures) or 12 smaller ones if using a muffin tin.